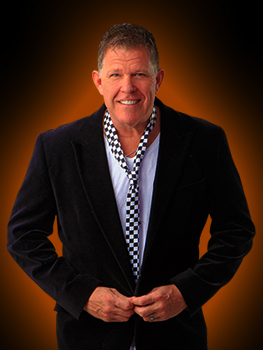 Neither of Robert's parents were musicians. They loved music, especially when Rob would play records and dance for them as a child. Once while visiting, his uncle asked Rob to dance for him, and Rob was promised a new guitar for his efforts. When he received the guitar, he was so excited he ran down the block to show it off to his friends. On the way, Rob tripped and fell on it, crushing it to pieces. He was devastated. His parents decided he should have drums this time since they would be harder to carry around. Thus, a drummer was born.
Rob loved his first "Tony the Tiger" drum set, and he played and sang along with his favorite records. His parents noticed his ability and arranged for lessons. One of Rob's favorite songs was "Raindrops Keep Falling on My Head". In fourth grade at Airline Park School, he sang it, accompanied by a tambourine, and took second place in a talent contest. His dad was so proud he took Rob to a studio to make his first recording.
Robert continued to practice hard and was finally given a Sears blue sparkled drum set. Rob wanted to be in a band just like the Beatles and the Monkees, but he knew only one guy on the block who played guitar. Al was a little bit older than Rob and kind of a punk, but he could play. One day they were practicing and Rob's dad came home to find Al sitting on his stereo. Al was rude and was promptly thrown out of the house. Rob's first band was history!
In 1971, Rob's family moved to Jekyll Island, Georgia, and he took the blue sparkled set of drums with him. By this time he was playing along with recordings of Elton John, Carole King and his favorite, the soundtrack to Jesus Christ Superstar.
After a year Rob and his family moved back to Metairie, La. where his best friend played in a band who needed a drummer. Rob fit right in. Meanwhile, Rob started middle school where his true foundation of music was instilled. He played in the school band and recorded an album in the spring of 1973. After band practice, Rob would jam with friends, playing songs by the Allman Brothers, Kiss, and Wishbone Ash.
Rob also played in a drum and bugle corps, named "The Southern Rebels", where he learned his first paradiddle. It was then that he finally found some friends that were serious about music. Rob joined a group called "Oxley Foxx" and then needed a better, professional set of drums. His dad loaned him $500 and helped him get a job bagging groceries to pay for a new, black set of Slingerland drums. At this time, Rob was also a member of the East Jefferson High School Band and had to practice all week for East Jefferson's half time show on Friday. Ironically, Rob missed the performance on Friday because he was working at the grocery store and flunked band because he didn't tell the band director he wouldn't be there.
Oxley Foxx was fun, and Rob learned a lot about music and camaraderie, but the band broke up after playing only two gigs in four years. Rob then joined "Roulette", his first working band. The band played music by Deep Purple, the Who and others. Once Rob had to hide in the manager's office at the Showboat Lounge in Metairie, La., during a police raid. He was only seventeen and if arrested, there would be no music that night.
During this time Robert realized that music was really what he wanted to do with his life but worried about the future, so after high school Rob received a degree in electronics and worked for Lanier Business Products. His boss found out he was playing music at night and told him he had to choose between music and being a company man. Rob hasn't held a "day" job since. Roulette continued on and recorded original material, including Rob's first original song, "Without a Second Thought", which won second place in the WRNO FM rock album contest. When the band started having musical differences, Rob auditioned for The Topcats in January of 1983. The band claimed he wasn't the best drummer they had ever heard but had the best personality, so he got the gig replacing Paul Garaudy. Actually, Rob was by far the most solid drummer the band tried out, especially his foot work on the kick drum, hence the nickname "Big Foot" (or that could be just because he has huge feet)!
Check out Rob's recording of "Raindrops Keep Fallin' On My Head" when he was just ten years old! You can also check out Roulette's recording of "Without a Second Thought", which features Jim Lockwood on vocals, Larry Hearst on keyboards, Craig Courtney and Ronnie Huft on guitar, and Rob on drums. "Without a Second Thought" shows the influences of heavy rock on Roulette's material. The Topcats later rearranged and recorded this song on their first recording, "The Topcats EP".