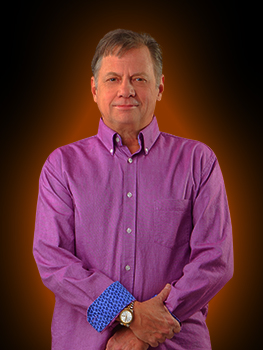 As a young child, David didn't have the musical interest that most career minded musicians have as children. Interested mostly in sports and other childish interests, he didn't touch a piano until the age of twelve or thirteen. His grandfather was the only musical person in his immediate family, and David's first keyboard experience was on the piano in his grandfather's basement. He continued to peck at the piano for a couple of years. Then, while in junior high school and shortly after rock's "British Invasion", he fell in love with the organ sounds on "The Best of The Animals" album and really got into the sounds of The Doors, Vanilla Fudge, and The Iron Butterfly. It was during a school party , in seventh grade, when he first experienced a "live" band and in seeing the keyboard player playing a Farfisa organ, David decided that this is what he wanted to do with his life. It took two years for him to convince his parents to give him an organ, and that was the beginning of a long career in music. After many hours of practice, he joined his first band with other members of his high school class. "The Experience" later changed it's name to "The Eternal Creation" which lasted through his junior year in high school. After that, David joined "Lik", a somewhat known band in the New Orleans area. In 1973, he played with a band called the "Contours", who were older and wiser than he and gained experience playing music that he had not previously performed.
It was during this time David also studied music at Tulane and Loyola Universities in New Orleans. Although he left school with only a semester left to graduate, David attributes most of his musical knowledge to this education. It was also in this year that he got his first synthesizer. Until now, David's sound palette consisted of electric piano and organ only. He was amazed by the new possibility of sounds that a synthesizer offered and was fortunate to have learned synthesizers at that time and to have his knowledge of electronic music grow along with the technology. David now feels that this early education in synthesizers was a crucial part in the development of his craft.
In late 1973, after a short stay with a band called "Orange", David played with "Sunbow", a band that continued to play the Louisiana area which further added to his performing experience. In 1975, David joined "Kolour", which later reformed and changed it's name to "Windfall". It was with this band that David was afforded his first opportunity to record his own music. "Childhood's End" was one of his first songs recorded. Windfall was together three years before disbanding in late 1979.
David then spotted with a few bands for about a year and a half, and during this time, David started to work part time at Allied Music, in New Orleans. This job afforded him the opportunity to stay on top of rapidly growing, keyboard technology. He worked part time, on and off, at Allied Music for almost eleven years.
In October of 1981, David joined The Topcats replacing his old keyboard partner from Windfall, Steve Accardo. His stay with The Topcats is on going and has been the major means of support for David and his family!
Below you will find audio clips from four of David's earlier recordings. In the 80's, David fell in love with jazz, especially "fusion", the combination of jazz and rock. "Leavin' Idaho" was recorded in 1991, at David's home studio. The next three, "Childhood's End", "Go For Broke", and "Love Song", were recorded in 1979, at Ardent Studios in Memphis, TN., by Windfall. Windfall featured David and Steve Accardo (a former Topcat) on keyboards, Ralph Edwards (who also had a short stay with The Topcats) on guitar, Lenny DiMartino on bass, Dan Robins on drums, and Quinn Rainwater on vocals.